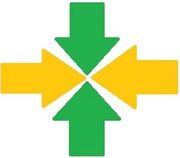 EverymanHYBRID started as a fitness vlog created by three friends from New Jersey Vincent, Jeffrey and Evan. The purpose of EMH was teaching people how to get fit without spending too much money, and tips on fitness in general.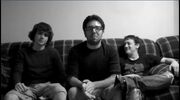 As a prank and in order to obtain more viewers, the crew placed a fake Slenderman on the back of some videos. Eventually, they admitted it was, indeed, a fake one, but only because they believed someone dressed as Slenderman (probably one of their friends) entered Evan's house, trying to prank them.
As they attempt to keep teaching fitness-related stuff, strange events start to occur more frequently and the channel becomes a documentary about their situation.
Slenderman's Role
Edit
The Slenderman plays a key role in the earlier videos of EverymanHYBRID, serving as a supernatural enemy the crew must defeat. It affects all three of them (and, eventually, their friends and family) in different ways each. Later, they caught up with other entities (such as The Rake and Habit) and Slenderman plays no longer a primary role on the plot, but still is very important. 
The first video in the EMH saga- Introduction