Witness Profile
Edit
(Witness ID #00111)
Jay ██████ (J) is the second main witness and main protagonist in the
Marble Hornets
case. He was a friend of
Alex Kralie
and worked with him during production. In the entries he filmed himself he has become the target of
Masky
more so than the Slender Man. He has been uploading the videos to the MarbleHornets YouTube channel and was originally given the tapes by
Alex Kralie
.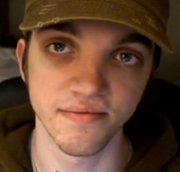 Event History
Edit
Jay ██████ originally worked with Alex Kralie on the Marble Hornets project as a script writer. During production, he never saw the Slender Man save for Entry #12 [1], when the entire cast on set witnessed him and believed it to be Tim ██████. Once production was halted, Alex Kralie gave him the tapes before leaving.
After three years, Jay ██████ found them in his closet and decided to review them. He only posted the ones that seemed to be significance, whether they have sightings, visual or audio distortion, and he adds summaries and extra description with the text. These include:
Introduction [2]
Entry #1 [3]
Entry #2 [4]
Entry #3 [5]
Entry #4 [6]
Entry #5 [7]
Entry #6 [8]
Entry #7 [9]
Entry #8 [10]
Entry #9 [11]
Entry #10 [12]
Entry #11 [13]
Entry #12 [14]
Entry #13 [15]
Entry #14 [16]
Entry #17 [17]
Entry #20 [18]
Entry #22 [19]
After viewing up to Entry #14, he decided to start looking for Alex Kralie and posts his own videos as entries. These include:
Entry #15 [20]
Entry #16 [21]
Entry #18 [22]
Entry #21 [25]
Entry #23 [26]
Entry #24 [27]
Entry #25 [28]
Entry #26 [29]
After Entry #25, he decided to quit but was sent the tape shown in Entry #26. He continued his search with the hint that Alex Kralie is still alive.
Following Entry #26, Jay ██████ went missing for seven months, from April 18th to November 23rd. He returned with Entry #27 and informs us that the last seven months have been blacked out of his memory and does not know the location of the hotel he is staying at. He meets Jessica ████ who is staying in the conjoining hotel room. He discovers that she too is being followed by the Slender Man. These entires include:
Entry #27 [30]
Entry #28 [31]
Entry #30 [32]
Entry #31 [33]
Entry #32 [34]
Entry #33 [35]
Connection with ToTheArk and Masky
Edit
Masky and ToTheArk have only begun posting videos and appearing in entries after Jay ██████ began his investigation. It is believed that Alex Kralie has not encountered either suspect while Jay ██████ has rarely encountered the Slender Man. Masky has proven himself to be hostile toward Jay while ToTheArk's motives are uncertain, yet Jay ██████ believes they are malignant.